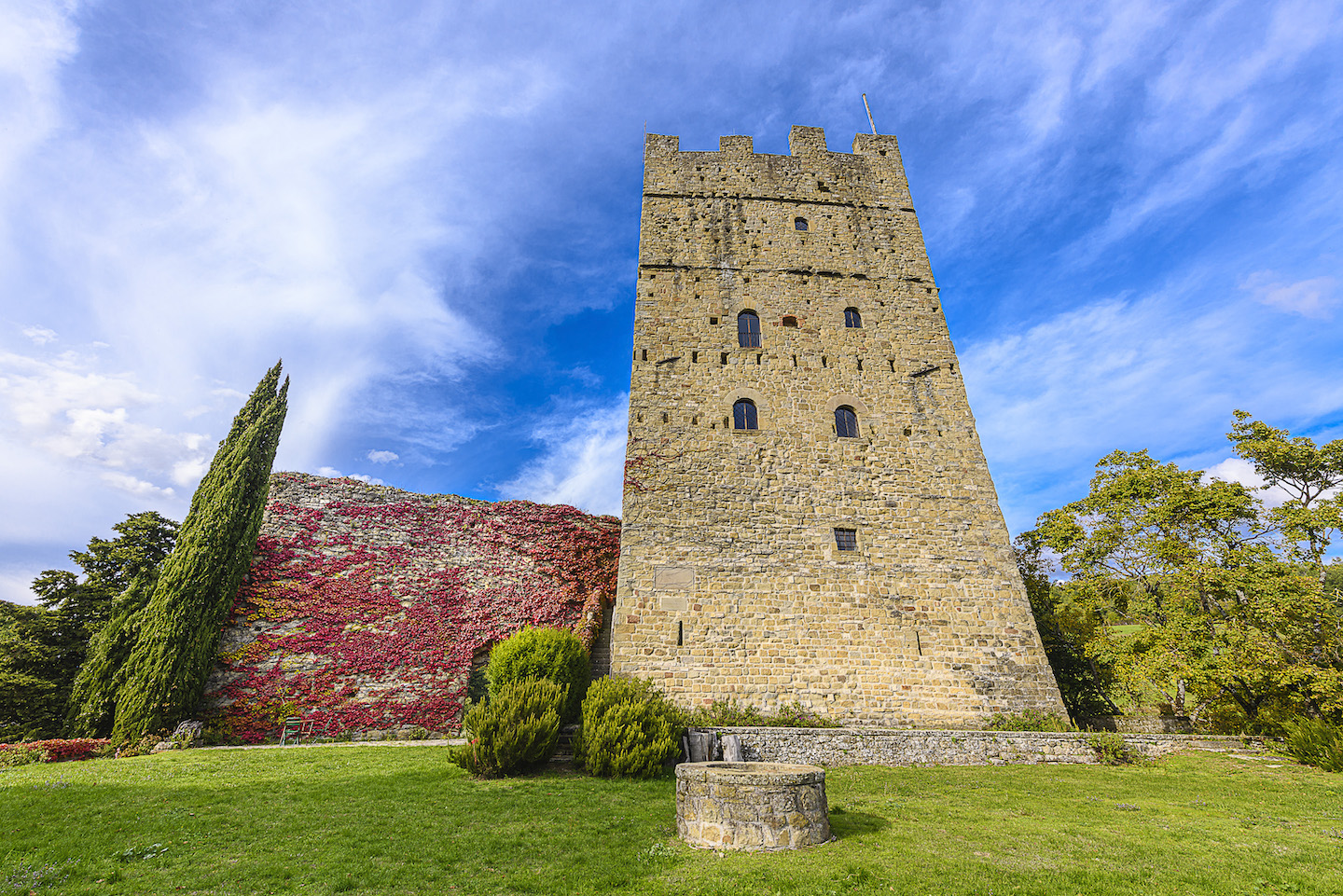 Castle of Porciano
The castle of Porciano is located on a hill 610 metres above sea level, visible from most of the Casentino. Records of the castle date back to 1017, when it was the residence of Count Guido di Teudegrimo, a member of the noble and powerful Conti Guidi family, owners of many other castles in Tuscany and Romagna.
Its great tower was built during the 13th century, coinciding with the establishment of the Conti Guidi di Porciano family line. In fact, for several years, the castles and lands of the Guidi had remained undivided: it was only in 1229 that the family divided into various lines, one of which was based in Porciano.
During his exile from Florence, Dante was hosted here by the Counts Guidi and wrote, between 1310 and 1311, three famous letters entitled "To the Princes and Peoples of Italy", "To the Florentines", "To Arrigo VII".
The last Count Guidi di Porciano, Lodovico, entered the Camaldolese Order on 25 July 1443, in Santa Maria degli Angeli, in Florence. The year before, he had discharged the men of Porciano from all their oaths to him, effectively putting an end to the dynasty.
The castle then passed, first to the Republic of Florence, and then to the Municipality of Stia.  In 1793, the castle, in a state of ruin, was sold to Count Giuseppe Goretti de' Flamini, ancestor of the current owners.
The castle of Porciano presents a particular architectural structure, as it is an almost unique model of tower-palace. At 35 metres high, the tower has an enormous breadth and is the largest in the whole of the Casentino.
In the late 18th century, some conservative work was done to keep it standing, but before the second half of the 20th century, the entire interior had collapsed. The perimeter walls were also badly damaged both internally and externally. These originally had a patrol walkway protected by merlons and guarded by a wooden gallery covered by a roof (no longer there).
The entrance to the castle was from the north, through a still existing gateway, and the exit from the south. It is believed that the castle had a second wall to protect the village and the church.
Starting in 1963, the Goretti de' Flamini family began to restore the monument, which was completed in the 1970s, thanks to the supervision and funding of the Sovrintendenza (" Monuments and Fine Arts Office").
The three lower floors of the castle can currently be visited, while the upper floors are the residence of the owners. The Porciano Castle is part of the Casentino ecomuseum circuit.
For more information
CASTELLO DI PORCIANO
GEOGRAPHICAL COORDINATES
Latitude: 43.809462 (43° 48′ 34.06″ N)
Longitude: 11.699152 (11° 41′ 56.95″ E)