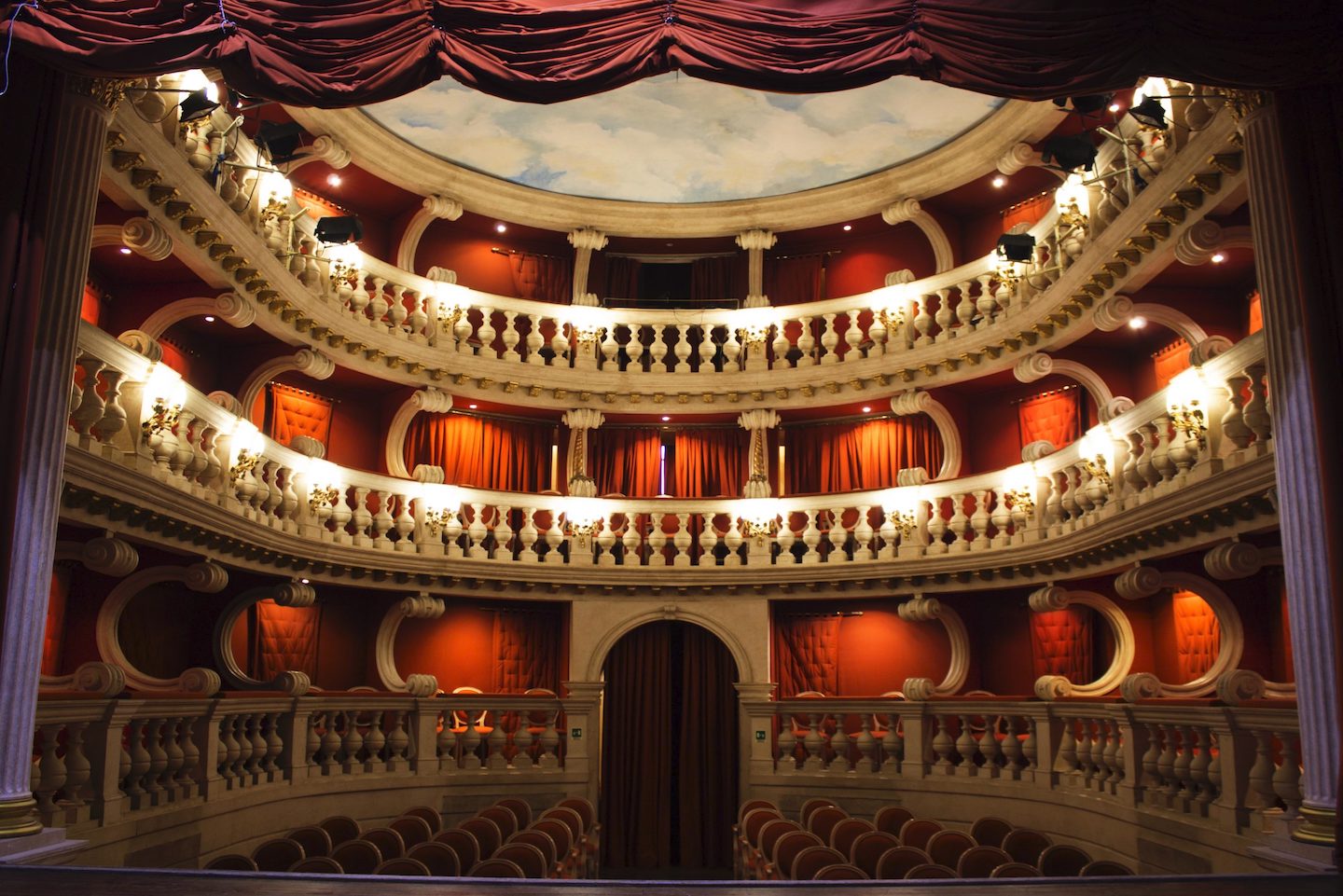 Everyone to the theater!
Among the various artistic and cultural events that animate the valley, a special place is undoubtedly occupied by the theatre.
There are currently two active theatres in Casentino, the Antei Theatre in Pratovecchio and the Dovizi Theatre in Bibbiena.
TEATRO DEGLI ANTEI
The Teatro degli Antei is located in Via Verdi, 2 in Pratovecchio, a few steps from Piazza Jacopo Landino or, as the inhabitants of the village call it, Piazza Vecchia.
It was founded by the "Accademici degli Antei" who, in 1719, obtained permission to use a room in the old chancellery archive and the adjoining farmhouse, in order to practise literature and comedy. Enlarged in 1726, the theatre was characterised by a horseshoe plan and three tiers of wooden boxes. In 1950, these were demolished and replaced by balconies overlooking the stalls, which we can still see today.
While the exterior retains the characteristics of 18th and 19th century architecture, the interior reflects the rationalist style of the post World War II period, when the decline of the theatre began.
In 1987, the municipality acquired the property, promoting its restoration and restoring its function.
Among other initiatives, the Teatro degli Antei is one of the locations for prime-time concerts of the biennial event "Naturalmente Pianoforte".
TEATRO DOVIZI
The Dovizi Theatre owes its name to Bernardo Dovizi from Bibbiena, a great political, religious and cultural personality who lived between the 15th and 16th centuries. Bernardo Dovizi, also known as Cardinal Bibbiena, was first secretary to Giovanni de' Medici and then cardinal when he became Pope Leo X. Dovizi is known for having composed the comedy 'La Calandria' and for being mentioned among the main characters in 'Il Cortegiano' by Baldassarre Castiglione.
The Dovizi theatre was built in 1842 by the Accademia degli Operosi, who entrusted the architectural project to Niccolò Matas. The interior, characterised by a U-shaped plan and three tiers of boxes, was designed in the so-called "Bibienesque" style, inspired by the works of the Galli-Bibiena family – artists who were also from Bibbiena and famous for their work as set designers at the main European courts.
After major restoration work, the theatre was returned to use in 1997, and since 2001 it has been home to Associazione NATA, Nuova Accademia del Teatro d'Arte, which has taken over its management and artistic direction.