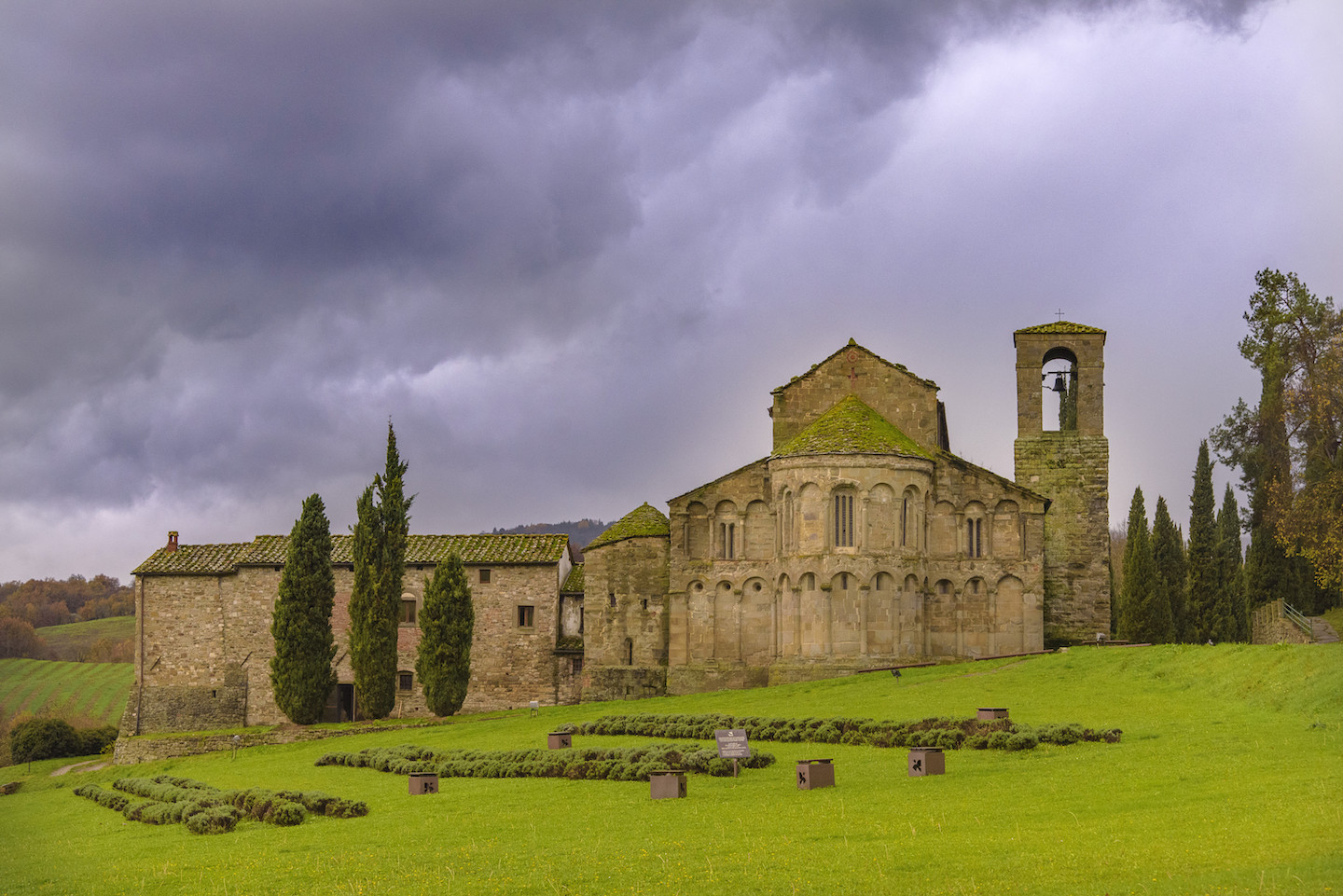 Parish church Pieve di Romena
The Pieve di Romena, in the municipality of Pratovecchio – Stia, houses the Fraternity dedicated to St Peter, and is one of the symbols of Casentino and a precious architectural testimony to the Romanesque style. The building, datable to the 12th century, stands on a pre-existing church (8th-11th century), which in turn was built on a pagan temple from the Roman era. The remains of these structures are still visible inside the crypt. The plan is shorter than the original one, due to an earthquake in 1678 that caused the collapse of the first sections and of the façade, which was rebuilt in a backward position.
The interior of the church is particularly striking for the capitals decorating the massive columns, made by Lombard craftsmen. Among the most significant representations are the Delivery of the Keys to St Peter, the Miraculous Catch and the symbols of the four Evangelists. On the abacus of the first capital we read "Tempore famis MCLII", i.e. 1152, the year in which the parish priest Alberico had the building constructed, and in which a severe famine must have been under way.
On the outside, however, the apse of the parish church is shown in all its beauty, with its colonnade carved in sandstone. From here, one can enjoy one of the most beautiful views of the valley, especially in the light of sunset, which crowns and completes the interior experience offered by the fraternity.
The fraternity has its heart in the ancient Romanesque parish church of Romena, and offers an opportunity to stop for a break to travellers from all over the world, an opportunity to reconnect and rediscover the beauty of our uniqueness, to then resume and continue our own personal development. Today," explains Don Luigi Verdi, founder and head of the Fraternity, "we do not need theories or ideologies, but silence, a pause, a time to reconnect with our authenticity. And this is what we are trying to offer in Romena".
In fact, since 1991, the Fraternity of Romena has been a reference point for anyone seeking a simple and welcoming space where, with full respect for individual histories and differences, everyone has the opportunity to get back in touch with themselves and, if they wish, with God, and to rediscover the value of sharing with others.
For information
www.romena.it