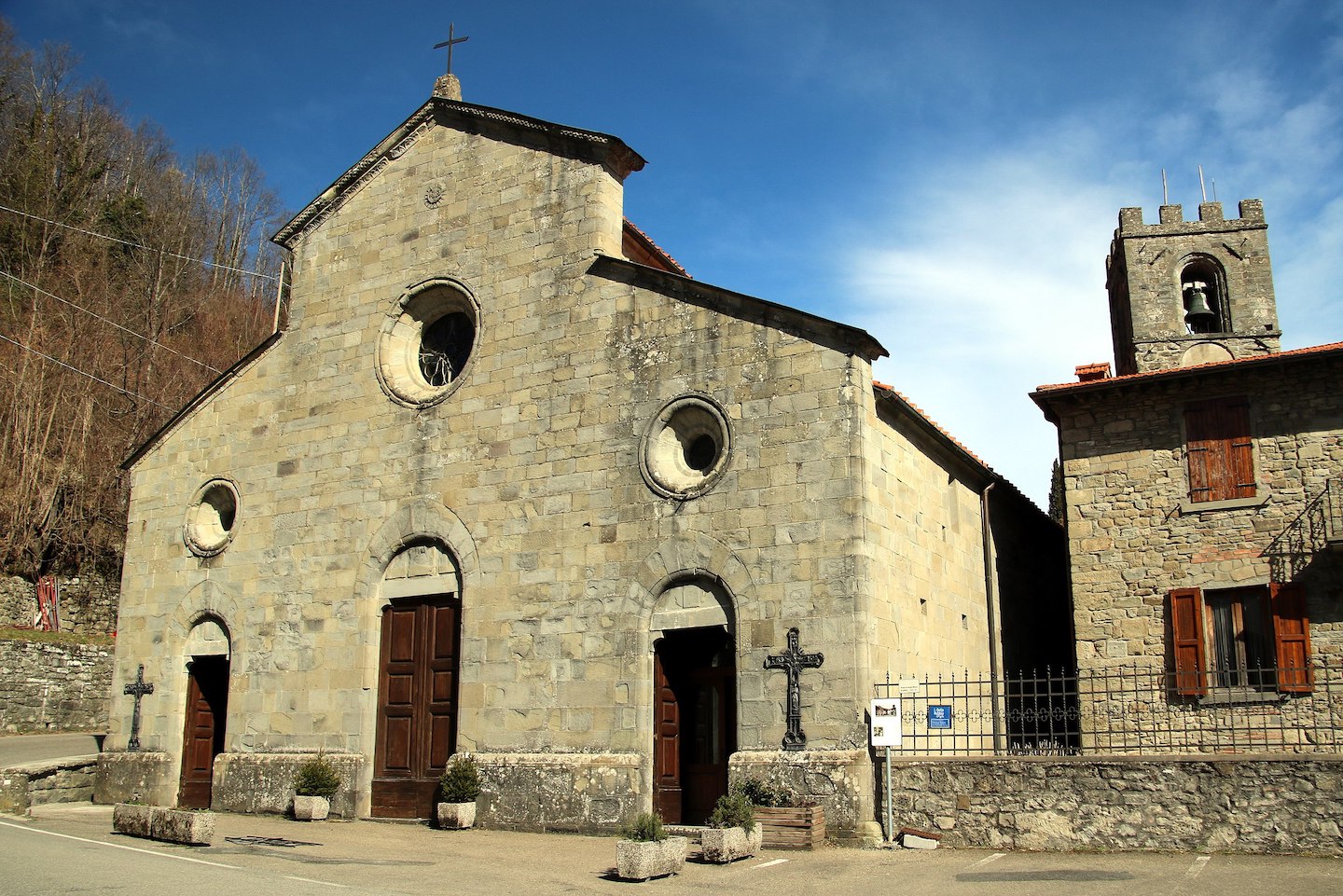 Santa Maria Assunta – Montemignaio
The parish church of Santa Maria Assunta in Montemignaio is one of the most important Romanesque churches in Casentino and dates back to around the 12th-13th centuries. It seems that its construction was commissioned and promoted by Matilda, Countess of Canossa, as well as the parish churches of Romena, Stia and Castel San Niccolò. However, it is more likely that its origin must be related to the presence of the Conti Guidi, lords of the Upper Casentino.
The parish church has an east-facing apse and similar characteristics to the other three aforementioned parish churches, all of which were built by workers of Lombard origin.
Outside the right wall of the apse rises the massive bell tower, originally built by the Lombard as a lookout post.
Inside the parish church, there are three naves supported by six rectangular pillars and four columns, and a semicircular apse.
While the first bay can be dated to the second half of the 12th century, the rest of the church dates from later, as shown by the alternation of columns and pillars, and the different decorations on their capitals.
Some of the pillars have traces of fresco decoration, such as the one on the second pillar on the right, which can still be clearly distinguished and depicts a Madonna and Child, dated 1440.
In the right-hand nave is the painting of the Madonna delle Calle, from the oratory of the same name, attributed to the painter Giovanni di Francesco Toscani (also known as the Master of the Griggs Crucifixion) and dated to the 15th century.
Also on the right, there is a glazed terracotta by Benedetto Buglioli (16th century), depicting the Virgin and Child with Saints Anthony Abbot and Sebastian. At the bottom, we find, in three compartments, St Francis receiving the stigmata, the Pietà and St Jerome penitent.
On the left, we find a panel painting attributed to Michele di Ridolfo del Ghirlandaio (1503-1577) depicting the Virgin on the throne with the Blessing Child and Saints Gregory the Pope, Bonaventure da Bagnoregio, Augustine and Thomas Aquinas.
Inside the parish church, there is also a baptismal font made of boulder, in the shape of a semicircular cup, featuring a sculpture of St John the Baptist in the upper part.
52010 Montemignaio – (AR) – loc. Fornello 17