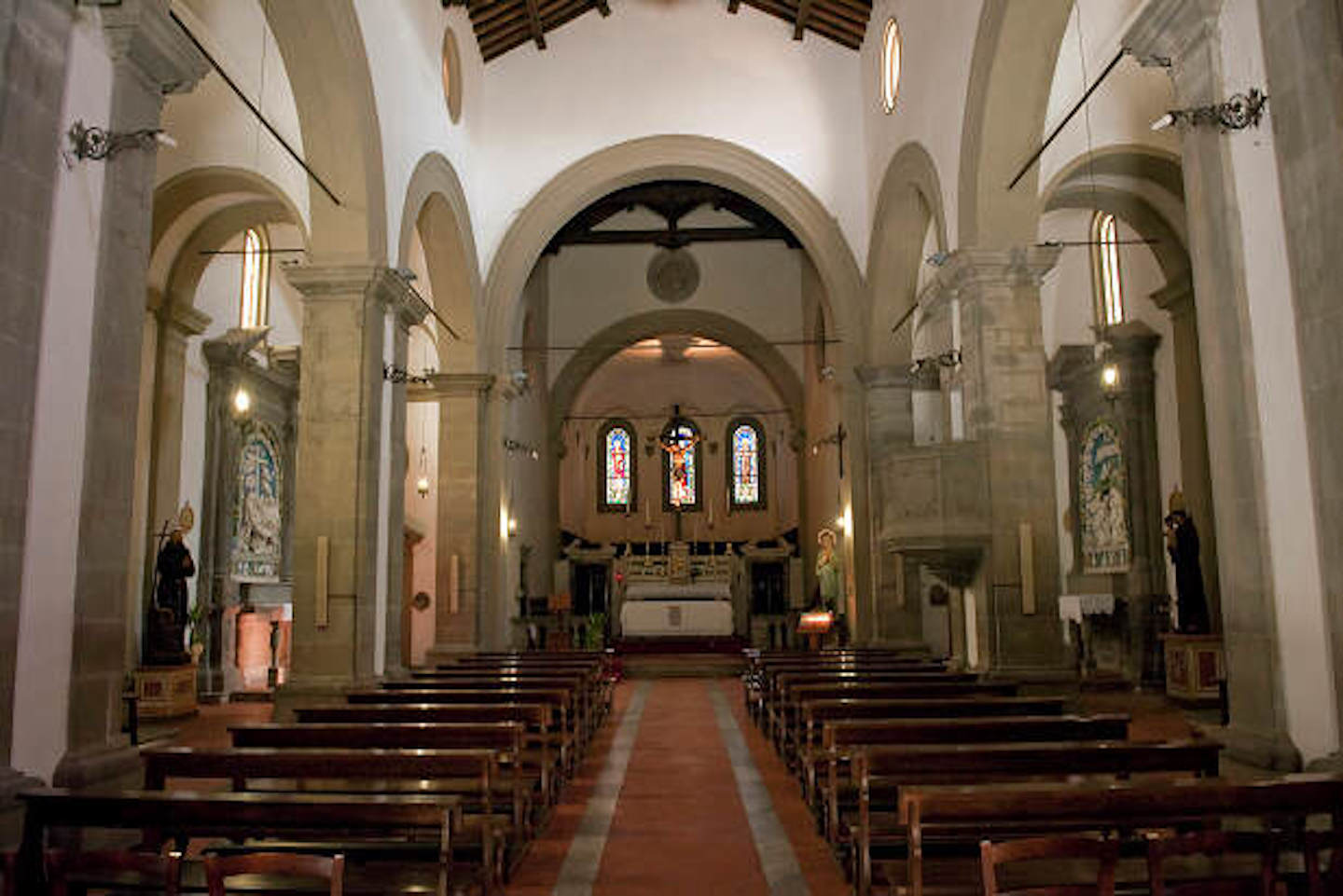 Church of San Lorenzo
The architectural complex of the Church of San Lorenzo consists of the church and the cloister, onto which the rooms of the convent, which housed the Franciscan Friars Minor, open. Its construction began in 1410, while the church was built in 1474 by the Franciscan fathers themselves on a pre-existing oratory dedicated to San Lorenzo. It was rebuilt in 1919 after a terrible earthquake.
The interior has a nave and two aisles surmounted by a wooden truss ceiling.
The side altars contain two remarkable terracotta by Della Robbia, bearing the coats of arms of Cardinal Bernardo Dovizi and Pope Leo X, i.e. Giovanni de' Medici, second son of the famous Lorenzo il Magnifico. The one in the right aisle depicts a Nativity with Adoration of the Shepherds, while the one on the left depicts the Deposition of Christ. Both are attributed to Luca della Robbia the Younger, and can be dated around 1515, because of the presence of the above-mentioned coats of arms. Both scenes are framed by the classic festoon of leaves and fruit typical of the Della Robbia family' s style.
The stained-glass windows decorating the apse are modern and depict San Lorenzo, patron saint of the church, the Virgin Mary and Saint Francis, as the complex was used by the Franciscan friars.
The cloister has two floors and was built between 1619 and 1640.
The original paintings, most of which have now disappeared, were commissioned by the Martellini family. All that remains of them is a depiction of St Francis giving his cloak to Count Alberto di Montauto.
During the Napoleonic period, the convent was confiscated and closed, until, in 1817, when the Franciscan friars repossessed it. After the unification of Italy, in 1968, the ownership of the convent was transferred to the Municipality of Bibbiena.
In 1955, after a restoration of the building, all the walls were frescoed again by the painter Ruggero Biggeri from Bibbiena. The scenes depict episodes from the life of St Francis of Assisi. On one side of the cloister, rather than in a central position, is the characteristic cistern that was used to collect rainwater.