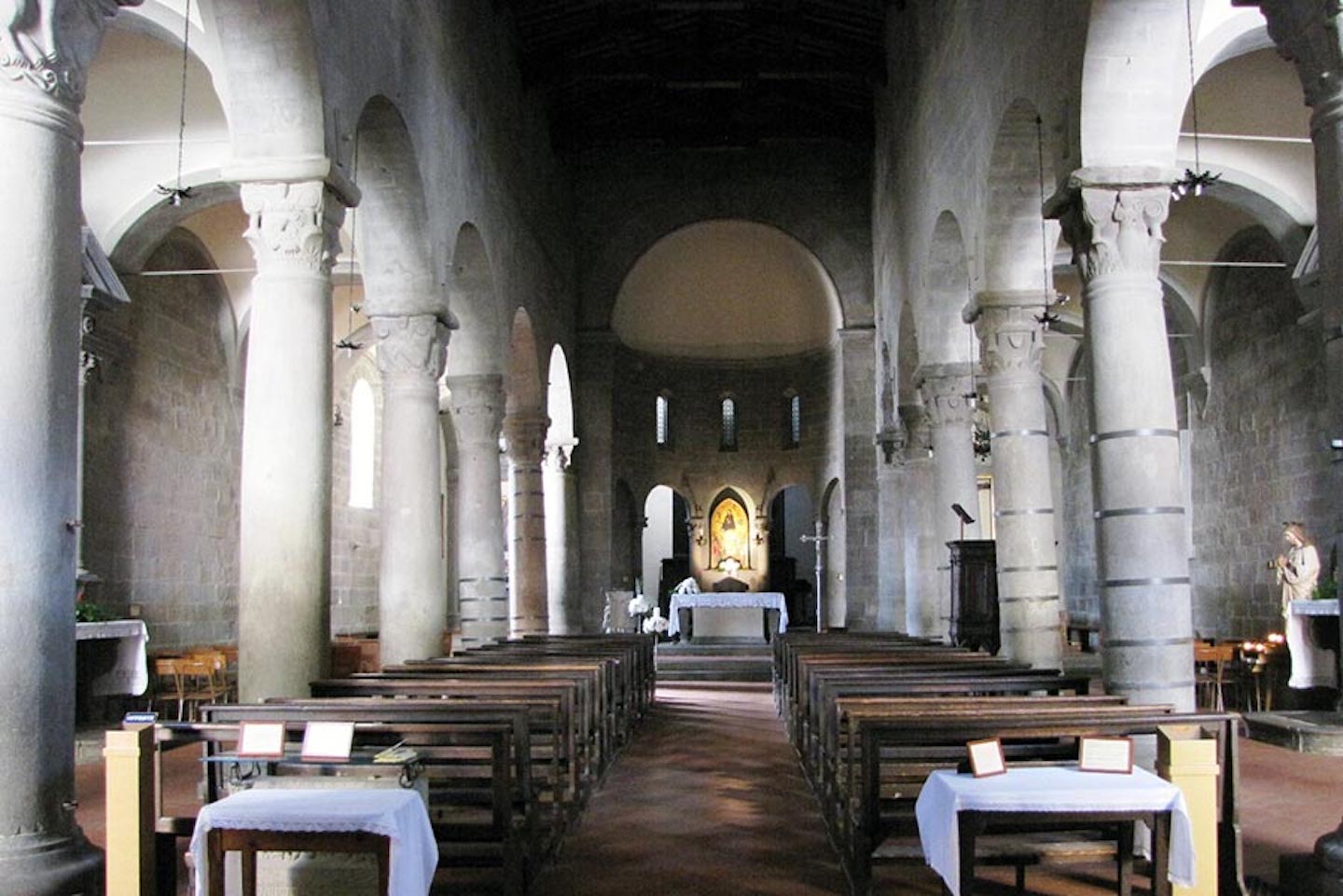 Santa Maria Assunta – Stia
The Pieve di Santa Maria Assunta, a jewel of Romanesque art whose origins date back to the second half of the 12th century, stands in the historic centre of Stia on the town's main square, Piazza Tanucci.
The interior retains its original Romanesque layout with a nave and two side aisles marked by monolithic columns with beautiful capitals, resembling those of the parish churches of Romena and Castel San Niccolò.
The Chapel of the Baptistery was built in the 15th century, but the most significant transformations took place in the 18th century, when the original façade and the first bay were demolished in order to enlarge the square. The façade was rebuilt in a backward position.  At the same time, the apse was demolished, and was replaced by three chapels, and a new choir stall was built. The apse was rebuilt during the restoration of 1925.
Other restoration work, carried out in 1974, revealed the remains of another building of worship, predating the construction of the parish church, which can be seen below floor level, in the presbytery area.
The church contains valuable works of art. In the right wing, there is an altarpiece depicting the Annunciation attributed to Bicci di Lorenzo (1414), an 18th-century painting of the Preaching of the Baptist by Giovan Domenico Ferretti and, in the presbytery, a 16th-century wooden crucifix and a polychrome terracotta ciborium by Santi and Giovanni Buglioni.
On the altar, there is a Madonna of the Girdle, dated 1408 and attributed to the Master of Borgo alla Collina, an artist who lived between the 14th and 15th centuries, who may be identified as the Florentine Scolaio di Giovanni.
On the left, also in the presbytery, we find the 13th-century panel of the Madonna and Child, attributed to the Master of Varlungo, a second Madonna and Child, in terracotta by Andrea della Robbia (around 1490), and a third Madonna and Child, between saints, attributed to the Master of San Miniato and dating to around 1560.
The visit to the church ends with the painting of Supper at the House of the Pharisee, dated 1596 and attributed to the painter Simone Ferri, a follower of the Florentine Mannerist movement.
Pieve Di Santa Maria Assunta