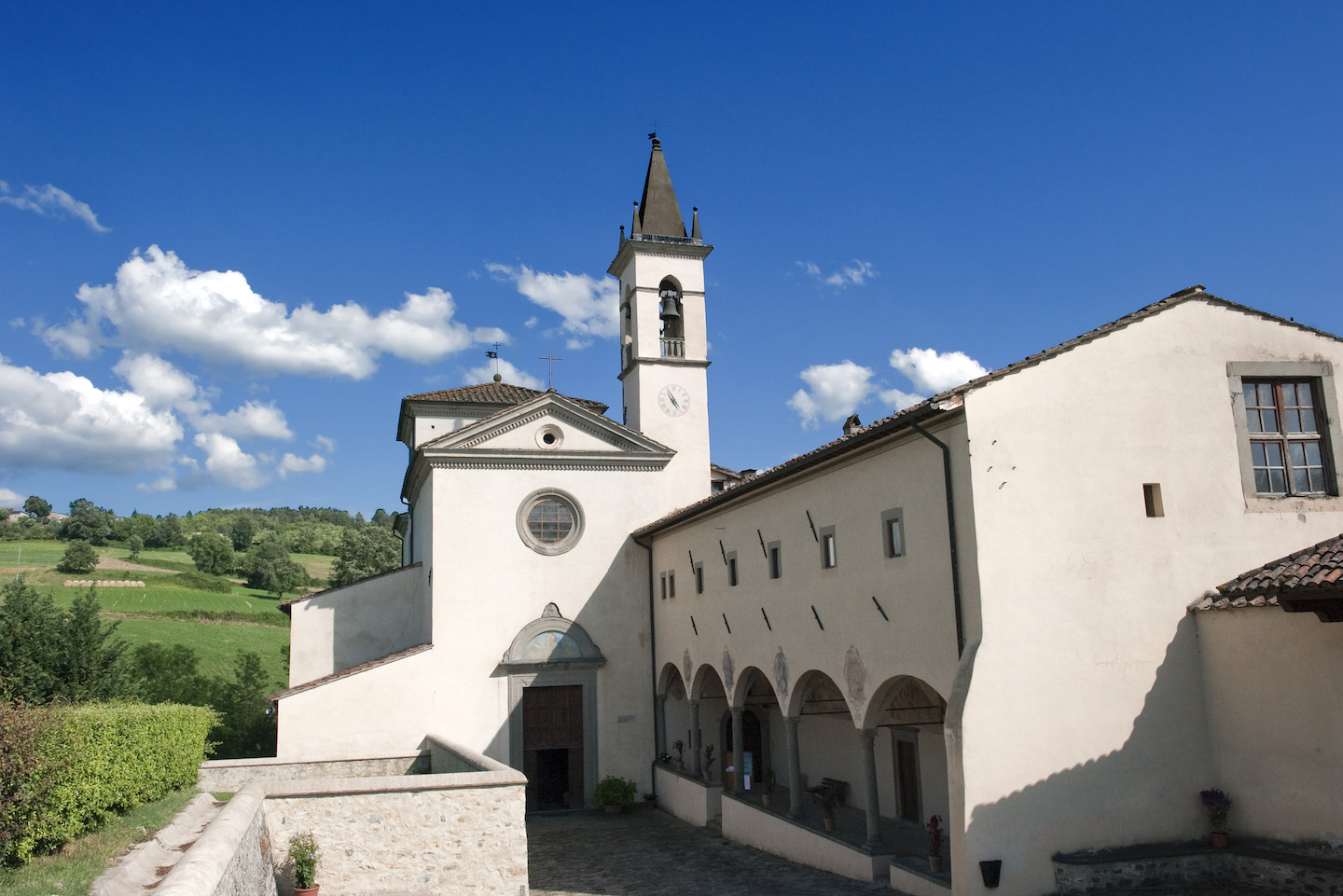 Santa Maria del Sasso
Santa Maria del Sasso is an architectural complex declared a National Monument in 1899. The Sanctuary takes its name from the large rock on which it is built.
Here, in 1347, the farmers of the area saw a white dove landing several times, which was only approached by children and a Camaldolese hermit, Martino da Poppi. On 23rd June of that year, a seven-year-old girl called Caterina saw a beautiful woman dressed in white, who exhorted her to love God and Purity by giving her three pods, which, once opened, were found to be full of blood. They were interpreted as an omen of the terrible plague of 1348, from which Bibbiena and its surroundings were spared, according to tradition, thanks to the protection of the Madonna. After the miracle, an oratory was built.
In 1444, following other apparitions that strengthened popular devotion to this place, the Municipality of Bibbiena established the Opera di Santa Maria del Sasso, endowing the oratory with a hospice for pilgrims.
In 1468, the Dominican friars of San Marco in Florence took possession of the complex. After the fire of 1486, which only spared the painting of the Madonna and Child attributed to Bicci di Lorenzo, a new church was built.  In 1495, the venerable Girolamo Savonarola sent 22 friars here, and had the hospice converted into a Dominican convent.
Suppression at the beginning of the 19th century, drove the monks away until 1873, when they returned. From the same date the novices, students and pupils of the Apostolic School were also transferred to St Mary's, remaining there until 1909. In 1927, since there were only a few religious left, the Dominican nuns from Lucca arrived and found a favourable environment for the contemplative life. Their presence has been particularly significant for the Sanctuary until today.
The church, consecrated in 1507, was built in Renaissance style, under the supervision of Giuliano da Maiano. It has a Latin cross plan, and the point of intersection between the two wings is surmounted by a dome. Here stands the small temple with the painting by Bicci di Lorenzo, while behind it, is the summit of the Rock, the protagonist of the miracles, whose base is visible on the lower floors of the church – the church had not been built before.
The interior houses numerous works of art, including glazed terracottas by Della Robbia and Buglioni, a Nativity of the Virgin by Jacopo Ligozzi and two altarpieces by the Dominican Friar Paolino da Pistoia, a Sacred Conversation and an Assumption.
In the lower part of the church is the Chapel of the Madonna del Buio, a wooden statue of the Florentine school of the early 15th century, attributed to Buggiano, to whom various miracles are attributed. The church also hosts an annual artistic nativity scene, famous throughout the valley, which each time presents a different theme linked to current events.
Monastery Tel. +39 0575-593452
Cell. +39 339-6603410
Sanctuary E-mail:  santa.maria@inwind.it