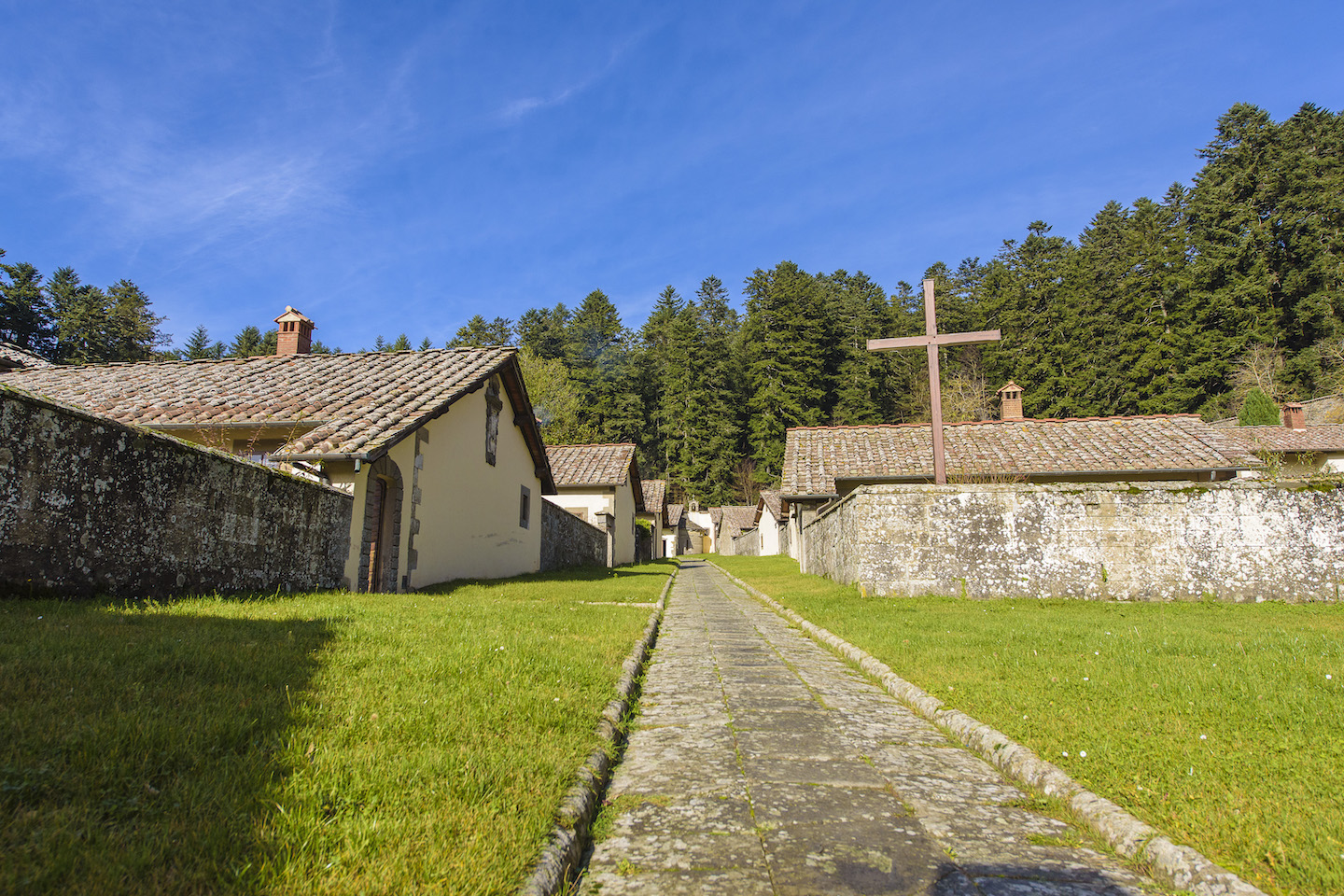 Camaldoli
Camaldoli, founded a thousand years ago by Saint Romuald, is a community of Benedictine monks located in the Municipality of Poppi, consisting of two distinct parts: the Monastery, in Fontebona, and the sacred Hermitage, about four kilometres from the monastery. Both immersed in the peace of the forest, they represent two fundamental dimensions of the monastic experience, solitude and communion. This is one of the most famous spiritual centres in Tuscany and beyond, since it was from here that the saint's reforming wave started, leading to the birth of a new order, the Camaldolese order.
Romuald, having reached the end of his life and having reformed the Benedictine rule, around 1023, took the Via Flaminia parva, that is, the small road that crossed the Apennines. On his pilgrimage, he arrived at the clearing of campo Amabile, where he founded the Hermitage, while at Fontebona, the existing station of the cross was reorganised into a hospice for pilgrims. The innovation of St Romuald was the introduction of the hermitic experience of oriental origin into the Benedictine monastic tradition, creating, with the Hermitage, a synthesis between the cenobitic and the anchorite way of life.
The activity of the monks includes both contemplative and active aspects, i.e. cultural activity and manual work, which is why the care of the forest has always been a prerogative of the monks. The Camaldolese rules imposed the creation of forests and the growth of existing ones, so that every year at least three thousand seedlings were planted. In 1857 and 1859, more than forty thousand fir trees were planted.
On arriving at the monastery, it is worth visiting the cloister, the church, the old pharmacy and, a short walk away, the ornithological museum and the Park Visitor Centre. The Monastery church, dedicated to Saints Donato and Ilariano, houses several paintings by Vasari, such as the Nativity of 1538, the Madonna and Child Enthroned between Saints John and Jerome and the Deposition. Numerous paths lead from the Monastery into the sacred forest, offering nature lovers and those who enjoy peace and quiet, the opportunity to take a walk in the woods.
The Sacred Hermitage is a place of great peace and it is possible to visit the cell of St Romuald and that of St Francis, who stayed there in 1220. Then you can enter the church of the SS. Salvatore Trasfigurato, consecrated in 1027, whose interior is an example of Neapolitan Baroque style, unique in Casentino. The chapter house houses a painting by Augusto Mussini depicting San Romuald with his first five disciples. In the small square in front of the church begins the enclosure of the laura, i.e. the set of monastic cells framed by a ring of white firs, a symbol, for the Camaldolese, of spiritual elevation.
For more information
www.camaldoli.it