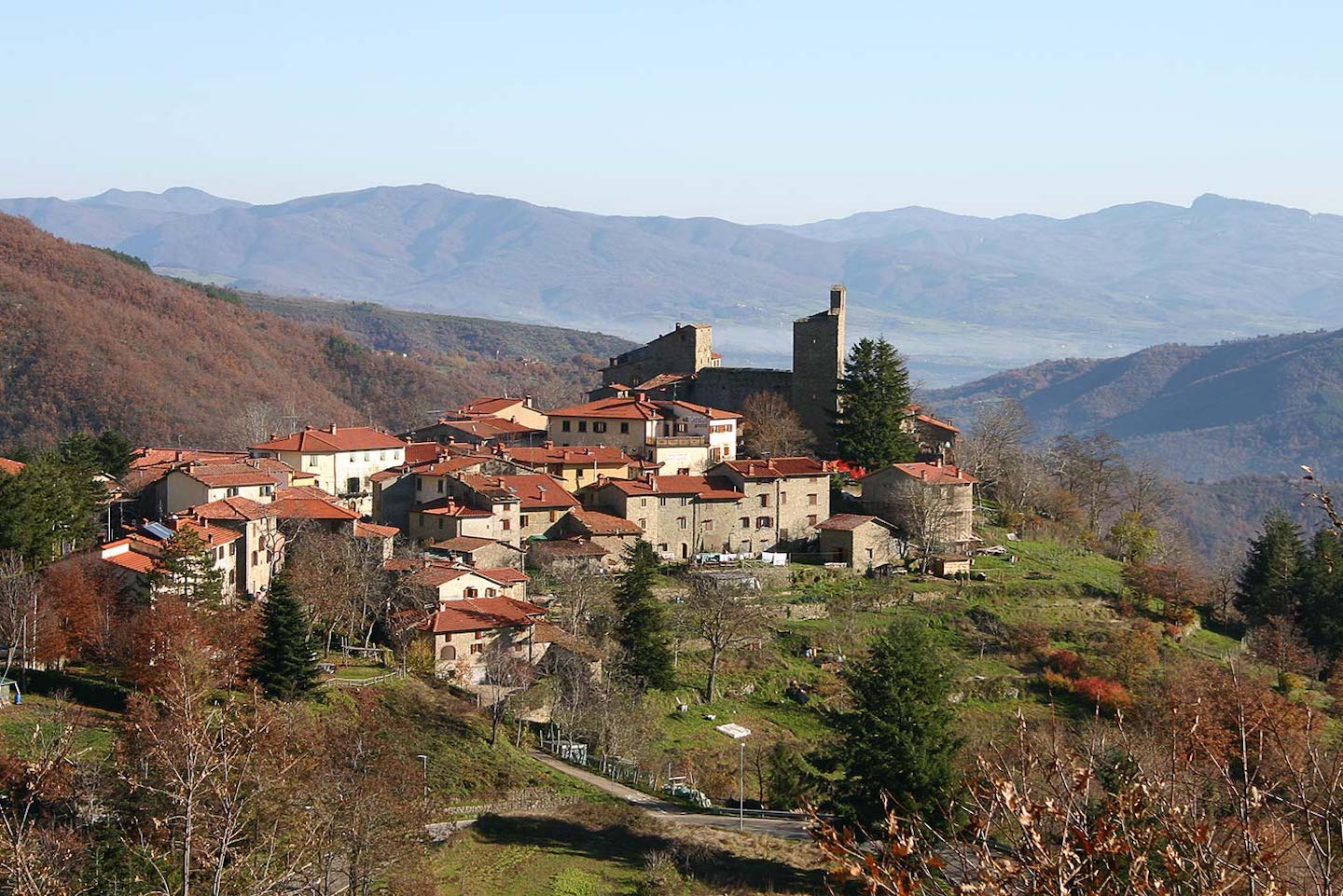 Montemignaio
Montemignaio is a village to discover, a perfect place to pause and reflect. Immersed in welcoming nature, Montemignaio is one of the last places you come across when leaving the Casentino in the direction of Florence. The territory is surrounded by fir tree cultivations, which have earned Montemignaio its reputation as the village of Christmas trees. The production of these plants is done with complete respect for the environment, so much so that, after Christmas, it is possible to replant one's own tree and then perhaps return to it the following year.
Montemignaio can be reached from either Strada in Casentino or Consuma, two roads immersed in a beautiful natural landscape. The landscape is the main attraction of Montemignaio. The town is dominated by the castle, known as Castel Leone, which stands proudly as a reminder of its past, around which the stone houses are gathered, and narrow streets with picturesque views wind their way. For a long time, the tower was used as a bell tower, and its cell contains a bell cast by Simone di Battifolle, a member of the powerful Conti Guidi family, in 1332. The story of this bell is curious: during the French occupation in 1799, it rang out to call the peasants to rise up against Napoleon's troops. The French, unable to remove the bell to silence it, took away its clapper. This was found years later at a blacksmith's in Rovezzano, near Florence. Further on beyond the castle, we find the parish church of Santa Maria Assunta in Cielo, older than the castle, first mentioned in 1103. Although tradition has it as one of the seven parish churches founded by Matilda of Canossa, the origins of the church are uncertain, but it can probably be attributed to the Conti Guidi family. The interior, in Romanesque style, is divided into three naves and contains artistic treasures such as the glazed terracotta of the Madonna and Child between St Anthony Abbot and St Sebastian, attributed to Benedetto Buglioni.
Coming from Consuma, before the castle, there is a detour that leads to the Oratory of the Madonna delle Calle, built along the ancient mule track that climbed from Montemignaio to Consuma. It was originally a tabernacle, attested at least since the mid-15th century. The oratory was built thanks to the offerings of wayfarers and pilgrims, since the image of the Virgin kept here, was believed to be miraculous, and was the object of great devotion. The rather simple interior has a rustic stone floor and a 17th-century altar with a copy of the 15th-century image of the Madonna delle Calle by Giovanni di Francesco Toscani, transferred, for conservation reasons, to the parish church of Montemignaio.