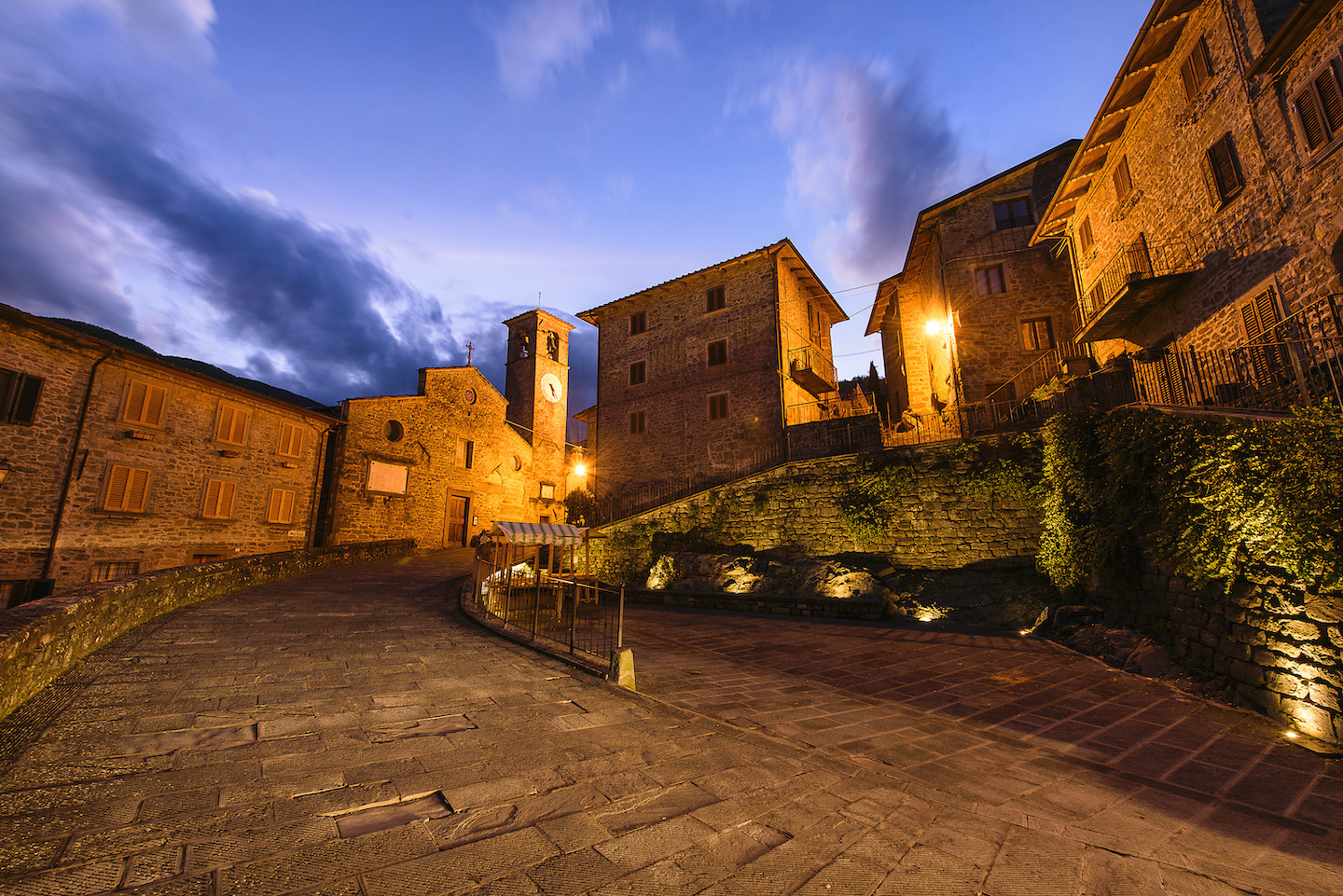 Ortignano Raggiolo
Ortignano-Raggiolo is a place where you can take refuge in your soul. Its chestnut woods, villages and landscapes are a world to be discovered, offering glimpses of real life. The territory is crossed by the Teggina stream, which springs from the Pratomagno hills and then flows into the Arno, becoming its tributary.
The first hamlet of the municipality we encounter is San Piero in Frassino, which is also its largest and most populous village. From here, we reach Ortignano, a village divided into a more modern part, in the valley, and an upper part, perched on the hill, with more medieval features.
The name of the village probably derives from the name Hortius or Hortinius, and is mentioned for the first time in documents in 1225, during a dispute in which Abbot Rainaldo of Capolona acted as arbitrator. The subject of the dispute was the presence of several towers, both here and in the nearby village of Raggiolo, which therefore appears to have been connected to Ortignano already in medieval times. In the upper part of the village, where the castle once stood, you can visit the church of Santi Margherita e Matteo, raised to the status of parish church in 1699 and recently restored.
From Ortignano, we continue on to Raggiolo, recognised as one of the most beautiful villages in Italy, a real gem of a place for the soul. Summer is certainly the best time to visit it, but it is in autumn that you can experience the magic of the changing colours. The first days of November, the Chestnut Festival celebrates the main fruit of this territory, reviving a series of traditions that are also recounted in its Eco-museum, mills and dryers, true monuments to nature.
The foundation of Raggiolo dates back to the seventh century, by Gothic or Lombard populations. Later it became a fortified site of strategic importance, being on the border between the dioceses of Fiesole and Arezzo. It changed political affiliation several times in the course of its history, following wars, sieges or donations. Because of the insubordination of its inhabitants, at the end of the 14th century, it suffered a large and bloody reprisal by Florence. The disputes ended definitively in 1440, when the Milanese troops commanded by Niccolò Piccinino destroyed and set fire to the village, killing and dispersing its inhabitants. The castle was never rebuilt but, according to tradition, the village was reborn during the Grand Duchy period thanks to the arrival of a colony of Corsicans.
The village is one of the most beautiful and fascinating in the valley, with its water mills, its views and its stone streets. In the main square you can visit the church of San Michele Arcangelo, built on the site of the Conti Guidi castle, which became a parish church in the 18th century. Inside, there is an image of the Madonna and Child attributed to the workshop of Donatello.