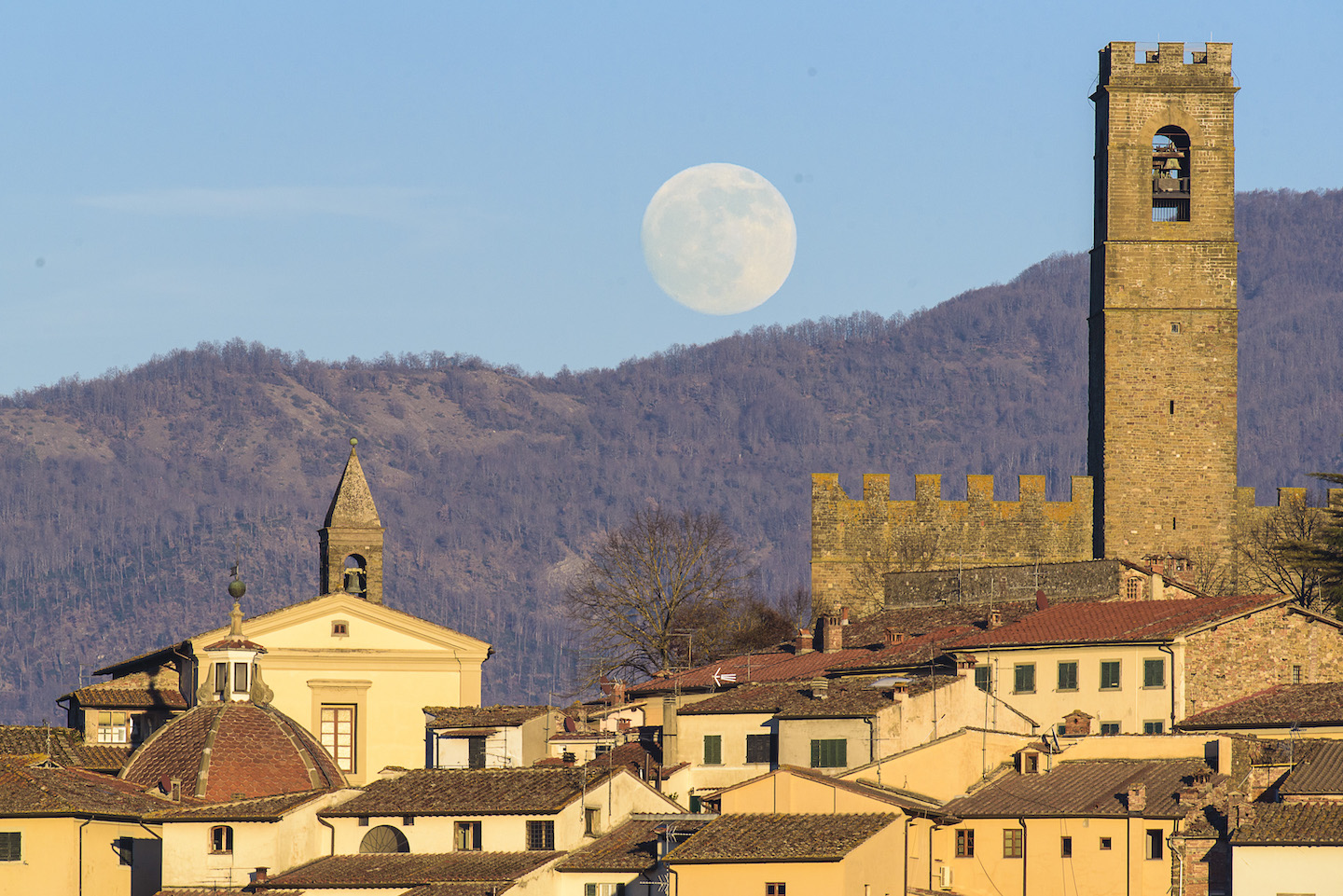 Poppi
Poppi is a dream village, included in the list of the most beautiful villages in Italy. Its castle, its porticoes and its walls make it a true architectural gem.
The castle, dating back to 1191, founded by the Conti Guidi family, is one of the most visited monuments in the entire province of Arezzo. It houses the Rilliana library, a precious collection of manuscripts, incunabula and other ancient volumes, the colourful Salone delle Feste and the chapel with frescoes by Taddeo Gaddi, a pupil of Giotto.
In 1274, the castle was remodelled on a project by the architects Lapo and Arnolfo di Cambio and, according to Vasari, Palazzo Vecchio in Florence was designed on this very model.
Not far from the castle is the small Oratory of the Madonna del Morbo, one of the few examples of Baroque art in the area, and the Abbey of San Fedele, where the Counts Guidi used to be buried. The church contains valuable works of art, including a Madonna and Child from the end of the 13th century and the Martyrdom of St John the Evangelist by Francesco Morandini, a mannerist painter who was a pupil and collaborator of Giorgio Vasari.
In front of the castle, hidden by trees (but clearly visible from the Porta Santi di Cascese, known as the Porta a Fronzola), is the famous Torre dei Diavoli. According to legend, the Countess Matelda was imprisoned here after it was discovered that she was in the habit of killing her lovers, with whom she was cheating on her husband, through a trap door.
From Ponte a Poppi towards Stia, we come across the Piana di Campaldino, the scene of the battle of the same name fought in 1289, in which Dante Alighieri himself took part; and the Church of Certomondo, also founded by the Guidi family for the Friars Minor after the victory at Montaperti.
Within the municipal territory of Poppi, we also find the characteristic village of Quota, on the slopes of Pratomagno and, in the direction of Camaldoli, the hamlet of Moggiona, a wolf-friendly village linked to the tradition of wine barrel making, the so-called "bigoni".
Camaldoli deserves a special mention, popular with pilgrims but also with art and trekking enthusiasts. Camaldoli is the seat of the order of the same name founded by San Romualdo, and is divided between the thousand-year-old hermitage and the monastery, whose church houses the early works of Giorgio Vasari. There is also an old pharmacy, where you can buy food and cosmetic specialities, and visit the historic laboratory. All around you breathe the peace and silence of the sacred forest, cultivated by the monks themselves, and an obligatory stop for all lovers of nature walks.
Finally, on the border with Romagna, nestled in the mountains, we find Badia Prataglia, once the site of an important abbey and now the starting point for numerous itineraries that develop within the Parco delle Foreste Casentinesi.