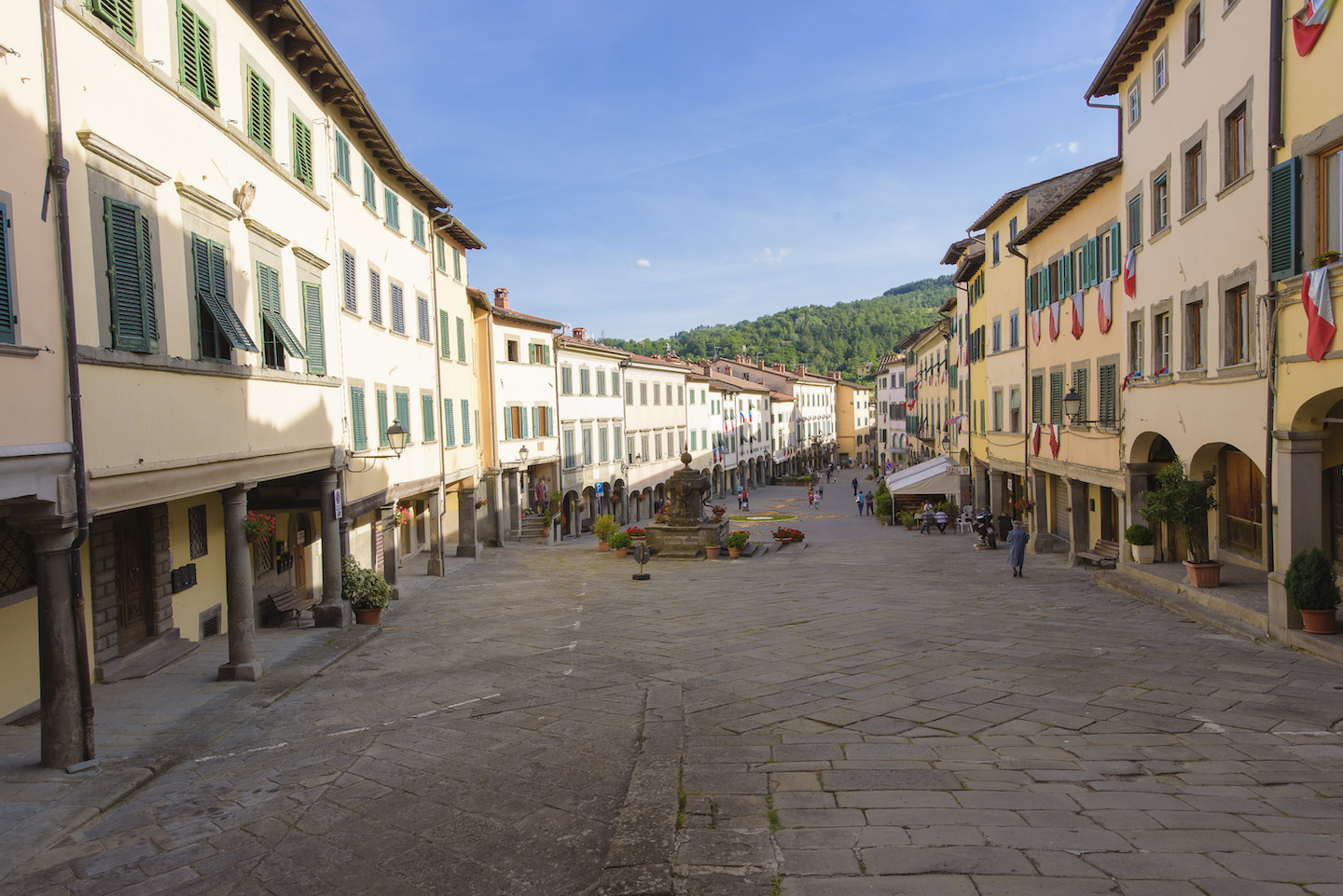 Pratovecchio Stia
The territory of the municipality of Pratovecchio – Stia offers plenty to see, discover and explore. Here, in fact, there are monuments such as the parish church and the castle of Romena, symbols of the valley's medieval past. The Pieve di Romena is a place of history and art, of beauty and forgiveness. In Romanesque style, it is one of the oldest parish churches in Casentino, famous for its curious capitals and its sculpted pietra serena apse. The thousand-year-old castle of the Conti Guidi, not far from here, reached by an avenue of cypress trees, is an enchanting place that has inspired great literary figures such as Dante Alighieri and Gabriele D'Annunzio.
The centre of Pratovecchio is undoubtedly Piazza Jacopo Landino, commonly called "Piazza Vecchia". Here we find the elegant Palazzo Vigiani (headquarters of the Parco Nazionale delle Foreste Casentinesi), Palazzo Nardi Berti, the Chiesa del SS Nome di Gesù, which houses works from the Pieve di Romena, and two monasteries: The Camaldolese monastery of San Giovanni Evangelista and the Dominican monastery of Santa Maria della Neve, with its red-brick courtyard.
Going north we find Stia, the village where the Arno has its source. It is a delightful village, whose centre is Piazza Bernardo Tanucci. Here we find the parish church of Santa Maria Assunta, whose interior is very reminiscent of the parish church of Romena as it is the work of the same craftsmen. There are many works of art here, from the glazed terracotta of the Della Robbia and Buglioli workshops, to the altarpiece with the Annunciation painted by Bicci di Lorenzo, to the 13th-century Madonna and Child by the Master of Varlungo.
Stia is also a town of traditions: gastronomic traditions, which have left us dishes such as Scottiglia  or Potato Tortelli; sporting traditions, recounted in a small ski museum (Eco-museum of the Wood and the Mountain); and craftsmanship traditions, linked to the working of iron and wool. The tradition of ironwork has given rise to the Biennal Exhibition of Blacksmithing Art, an important international event, while woolwork is expressed through one of the valley's symbolic products, the famous Panno Casentino (Casentino Cloth). In this regard, the Museum of the Art of Wool, housed in a former wool mill, deserves a special mention, as it offers a tactile itinerary with looms, photographs and antique machinery.
A little higher up from the village is the hamlet of Porciano, recognisable by its mighty ivy-clad tower, which also belonged to the Conti Guidi family, and is now part of the Casentino Eco-museum network.
Among the Ecomuseums, we also find Molin di Bucchio, a water mill a few kilometres from the village, which tells the story of the life of its legendary miller in a landscape of pure wonder.