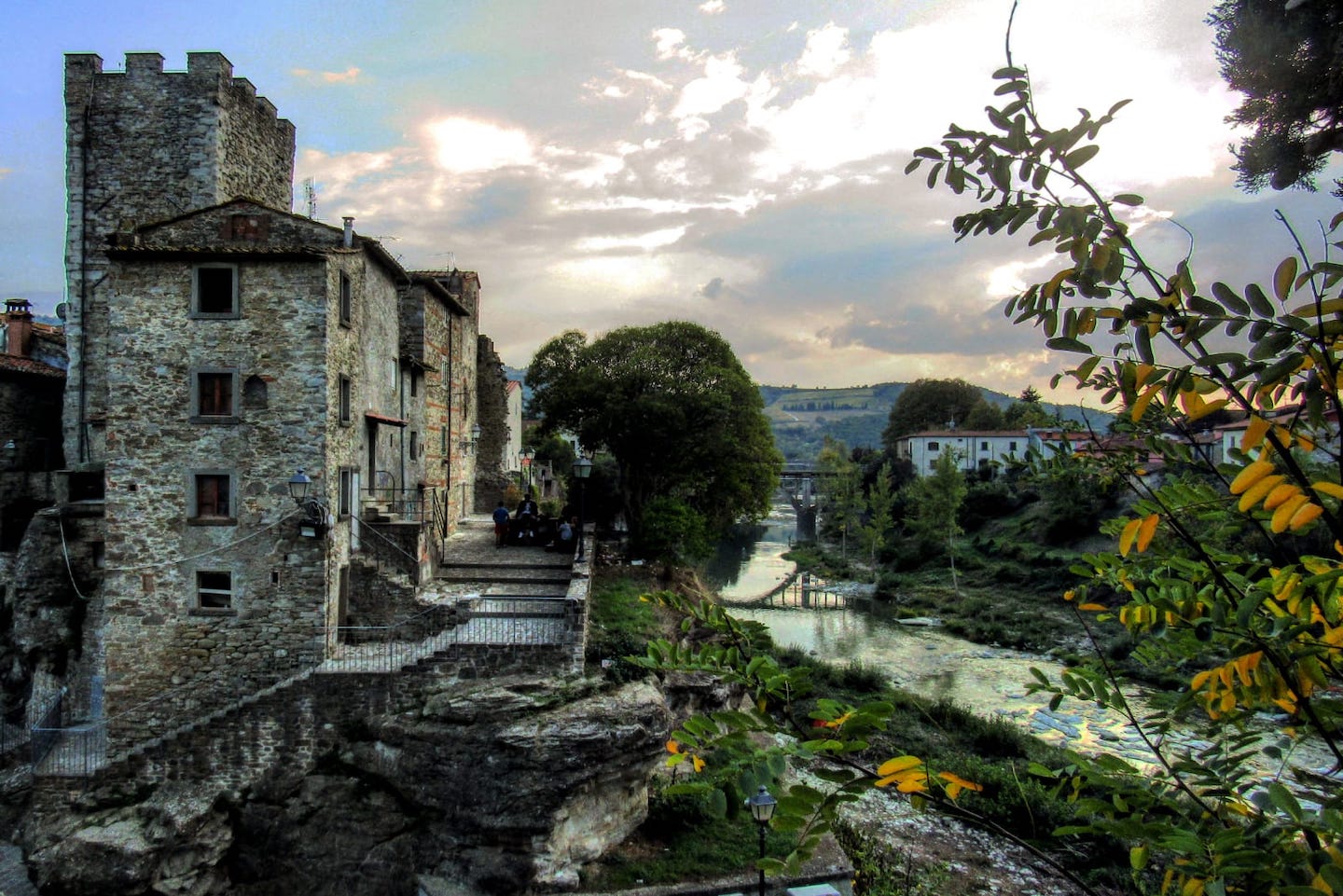 Subbiano
Subbiano welcomes you to the Casentino valley. It is the first village we come across, between the left bank of the Arno and the slopes of the Alpe di Catenaia ridge, which separates our territory from the Valtiberina.
The landscape is almost idyllic, with its green hills of olive groves and vineyards, ancient mills, small squares and mighty castles.
Subbiano, mentioned for the first time in the 11th century, has changed many coats of arms and flags: from the Counts Ubertini, who also owned the castle of Chitignano, to the Counts Guidi, masters of upper Casentino, to the Florentine Republic, to which the town submitted in 1384. However, the history of this territory dates back long before the 11th century, as evidenced by the Etruscan and Roman finds, carefully preserved in the Archaeological Culture Documentation Centre.
Located in the main hamlet of the village is the Palazzo della Podesteria, the seat of Florentine administrative power since 1384, recognisable by the coats of arms on its façade, albeit now barely recognizable. Traces of the ancient castle, later transformed into a noble palace, survive in the formwork and the tower that stands out in the village. Opposite is the church of Santa Maria della Visitazione, with its suggestive loggia.
The historic centre also boasts two aristocratic palaces, Palazzo Ducci and Palazzo Subiani-Ducci, which have been well preserved, thanks to the care of their owners.
As you leave the town, you must stop along Ponte Caliano, preferably at sunset, to enjoy the view of the red-painted river; a little further on, pause at the sight of an old mill, lulled by the sound of the water.
In addition to the aforementioned Centre for the Documentation of the Archaeological Culture of the Territory, the Second World War Museum is worth a visit. It tells the painful story of the fighting between the Allies and the Germans, which was particularly intense on the Alpe di Catenaia.
The Alpe di Catenaia is known not only for wartime events, but also for the absolute wonder of its nature, especially Prati della Regina and Sasso della Regina, a breathtaking panoramic viewpoint.
Within the municipal territory of Subbiano, we would like to mention the small village of Falciano, renowned for its mills, which are no longer operational but can still be visited. We would also like to mention the Castello della Fioraia, located above the village of Castelnuovo, and, going up towards the Casentino, the Castello di Valenzano and Poggio d'Acona, a small village located on the ridge between Subbiano and Chitignano, which offers spectacularly beautiful views.