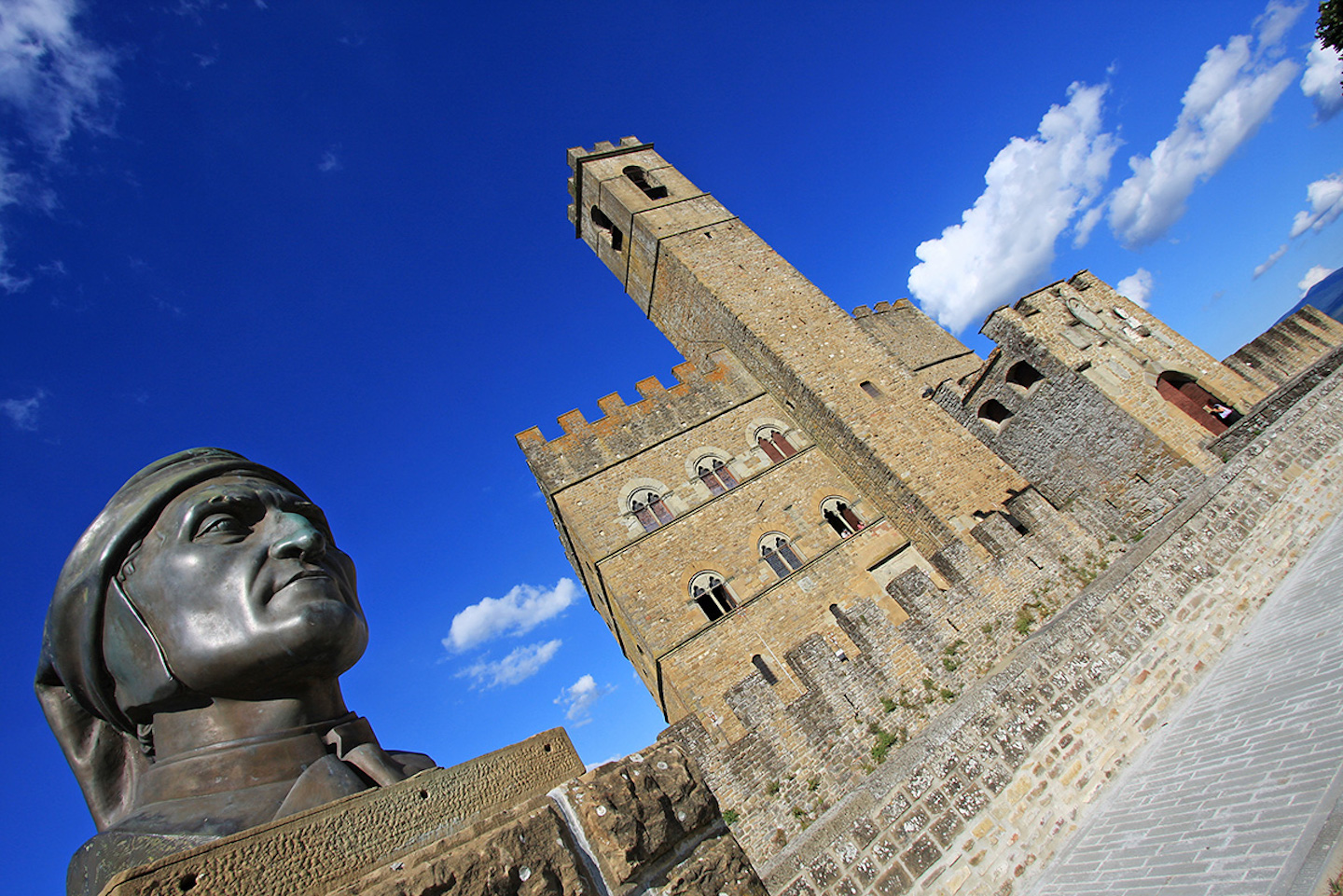 Poppi Castle
Poppi Castle is perhaps the best known castle in the Casentino area, or at least one of the most iconic. Its history is closely linked to that of the largest feudal family in the area, the Conti Guidi. The first documents attesting to the presence of the fortified site of Poppi date back to 1191, but it was in 1274 that the castle took on the appearance it still has today.
For the architectural project, Count Simone da Battifolle commissioned Lapo and Arnolfo di Cambio, who also designed Palazzo Vecchio in Florence, and, according to Giorgio Vasari, Poppi Castle was the prototype for the famous Florentine palace. The few openings in the walls surrounding the castle seem to be original. The fortified walled enclosure was then built around the tower, from which the other buildings of the fortification developed.
Initially, the castle wings were separated for defensive reasons and the main entrance was at the end of the courtyard. It was after the last major renovation of the castle, in 1470, that the present gate became the main entrance, and the two castle wings were joined by a majestic stone staircase. The gate took the name of "Porta del Leone" (Lion's Gate) because of the bas-relief above it, made by Baldassarre Turriani in 1477, who also made the internal staircase.
While the lower floors housed the armoury, the stables and the prisons (accessed from the tower), the upper floors were used by the lord's family. The large frescoed hall on the first floor is known as the "Sala delle Feste": it was here, in 1440, that the last Count Guidi, Francesco, signed his surrender to the Florentine Republic, condemning him to exile. From that moment on, Florence placed its own vicar in the castle: over the centuries, the various Florentine vicars have left evidence of their presence through the stone coats of arms that adorn the walls of the courtyard.
The castle also houses the Rilliana Library, an important collection of manuscripts and ancient volumes, a chapel with frescoes by Taddeo Gaddi, and a large model of the Battle of Campaldino, fought on 11th June 1289 between the Guelphs and Ghibellines. Dante Alighieri also took part in this battle, and a few years later he found himself wandering around the Casentino during his exile. Apparently, the "Supreme Poet" found hospitality in this castle, and here he wrote the XXX Canto of the Inferno, dedicated to Count Ugolino della Gherardesca.
The stories about Poppi Castle do not end here – over the centuries it has been the symbol of a territory, and has also been the testimony of the technical and scientific evolution of Tuscany and humanity. In fact, the American scientist Benjamin Franklin, a friend of the Grand Duke of Tuscany, used the height of the castle to test his own invention, the lightning rod. This happened in 1786.
For more information
Piazza Repubblica 1, 52014 Poppi (Arezzo)
tel. +39 0575 520516