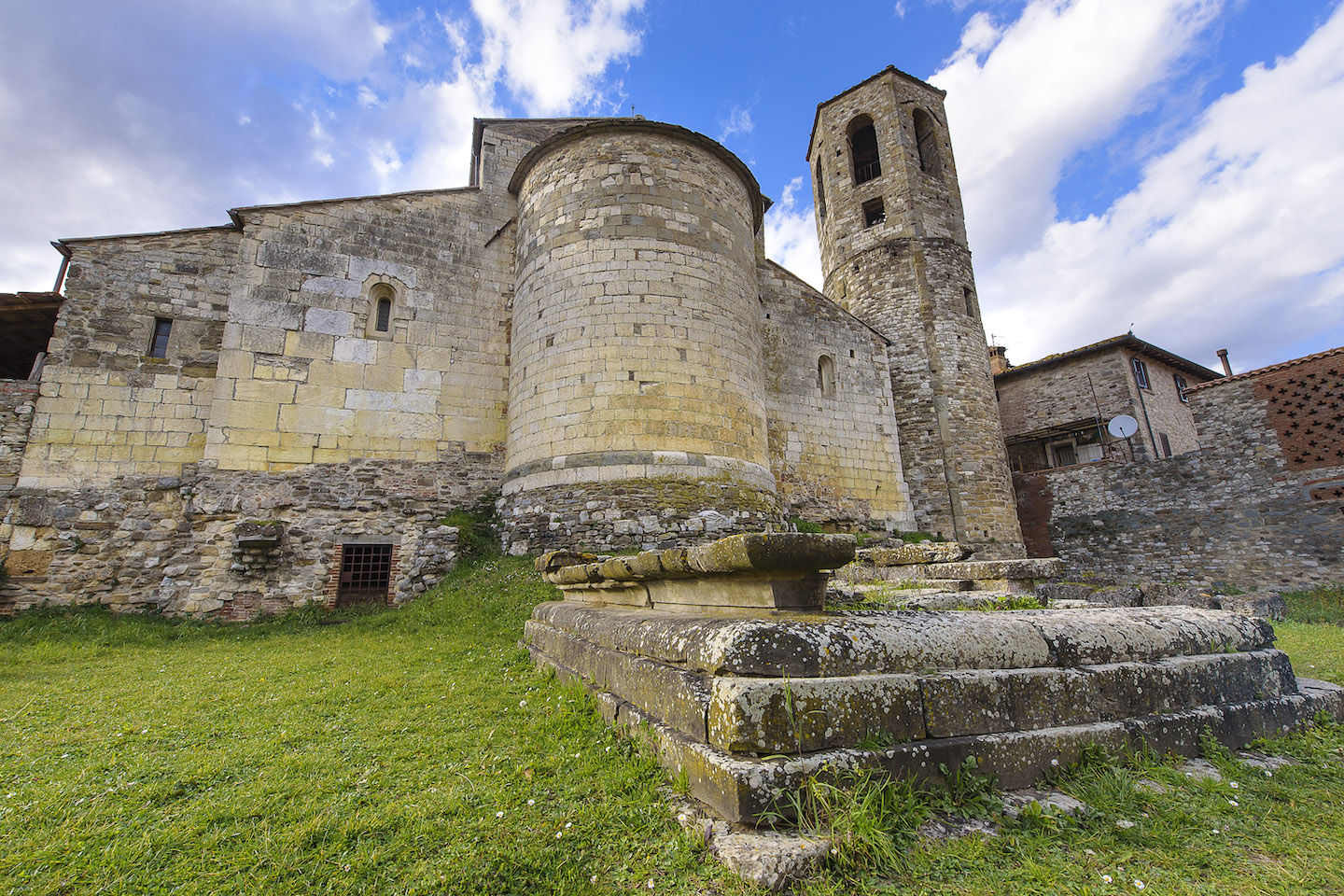 Castel Focognano
Castel Focognano was first recorded in written documents in 989, in a sales contract mentioning, as its boundary, the "public road from Monte Focognano". This toponym does not suggest the existence of the castle or even of a built-up area; it was not until 1022 that the first explicit mention of the castle was found in written sources. In 1322, the Bishop of Arezzo, Guido Tarlati, took the castle after a six-month siege, setting it on fire and destroying it right down to the foundations. According to some, it was the terrible destruction suffered by the castle on this occasion that gave rise to the name of the town. However, as we have seen, the name was already attested earlier, and probably derives from a personal Roman name (Voconius or Falconius). After Tarlati, the castle passed first to Bishop Buoso degli Ubertini and then to the Guelph family of Giannellini. The castle was subjected to Florence in 1385, and the podestà was established in 1404. The ancient Palazzo Podestarile (now the rectory), with its loggia, elegant columns and coats of arms, is an excellent example of early 15th-century architecture and sculpture.
This architectural complex is the heart of the village, together with the church of San Giovanni Evangelista. Moving on from the heart of the village to its outer fortifications, we come across the symbol of the village, the polygonal tower, which currently houses the Documentation Centre on the Rural Culture of Casentino.
The territory of Castel Focognano includes the hamlet of Carda, situated along the road that climbs towards the Pratomagno ridge, with its concentric structure dominated by the Church of Saints Flora and Lucilla, Salutio, overlooked by the remains of the ancient Castle, the residence of the Teri family. It also includes Rassina, the chief town of the municipality since 1778, when Pietro Leopoldo moved its seat, and Pieve a Socana, a small village built around the Parish Church of Sant'Antonio.
In Pieve a Socana, there is perhaps the best-known monument in the entire municipality, namely the Parish Church itself, in which traces of three civilisations can be read: Etruscan, Roman and Christian. The uninterrupted sacredness of the place is documented here by the overlapping of important buildings of worship, of which the most significant testimony is the large Etruscan sacrificial altar in sandstone, which belonged to a temple of which the steps under the apse of the church remain.
Lastly, we would like to mention the Bellavista Tower, located just outside the Rassina village and believed to be of Lombard origin, which in the past must have served as a signalling and watchtower. Probably rebuilt during the Middle Ages, in recent times it must have been used as a drying room, as suggested by the presence of a chimney and traces of soot on the inside walls.
Learn more about Castel Focognano